Meeting Mark: Shannon
Fan Expo Canada in Toronto (September 4, 2016)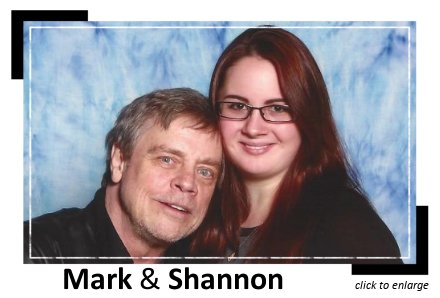 My first time meeting Mark didn't go as smoothly as one would've hoped, but in the end came a great reward. I was "star struck", so to speak, as I had never yet met the man who portrayed the characters I had grown up with.
On Sunday, September 4th, 2016, I began my journey around 4am. I drove from Pittsburgh, PA, USA, all the way to Toronto, Canada, alone. This was my first trip outside of the country since going to England with a school group in 2013, and I decided to front it by myself. Granted, none of my friends had passports in September, and I was not about to miss what could be the only event semi-close to me that I could attend to meet Mark. So, I drove six hours there, and thanks to traffic, about nine hours back, in one day.
Skipping all the boring stuff, I arrived at the convention center at about 10:30am after parking and entering through security checkpoints. I thankfully didn't have much trouble with the border crossing, which allowed me more time to spare.
I had gotten the photo op the week before on a whim when I decided to buy admission into the convention, leaving me little room to prepare. I remember making this crappy looking t-shirt with iron on transfers to display my one page's name: Star Wars On Set.(Truth be told, this shirt died a horrible death after it went through a wash and dry after I got back.) So, I proceeded to walk around, but with as overwhelming at the one show floor was, I wound up finding myself at the end of a line for autographs: Mark's line.
To be honest, an autograph was never intended, but the line was so short, and I had just driven six hours, so it happened anyway. I made friends with a nice Canadian guy in line who was telling me how American money is funny because it's all one color and they can't tell the difference… I thanked him later for keeping me company, but I never got a chance to see him again after that line dispersed.
By the time I got up to Mark, my mind blanked. I had so much I wanted to say, and despite what I heard, my dumb self still believed I would've gotten more than ten seconds to speak with him: wrong. They handed my photo to him to sign before I was even standing in front of him, and I was so flustered that I didn't want to shout out something stupid in front of other people, so I remained quiet. I wanted to tell him about my page, as he had liked some of my tweets and even tweeted me back a few times, but I couldn't. He looked up, his blue eyes confused, probably because I wasn't pestering him with questions, but he smiled, and wrote out my name which was on a post it on the photo, then drew a heart on it.
"Thanks, Shannon," he said and handed it to me.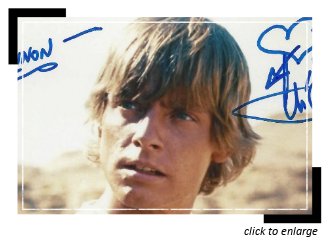 And with that, I wandered off, hating myself for being such a moron.
To pass the time, I found the underground mall that held a food court and grabbed something real quick. Then, I wandered around outside, and eventually hit my car in the parking garage so I could change into something decent for my photo. Ironically, this is the only time I wasn't wearing a fan page shirt for one of our photos.
My photo op was sometime around 1:45pm, but I don't really remember how early or late they were with them. What I do remember is standing in this mosh pit type thing (the most unorganized, by far), next to two British girls who were very outspoken and excited to have a photo with Stan Lee. Once they left, I began talking to a boy and his father in front of me about Mark, all the way until we received our photos. Shoutout to Nick and his dad, because we are still buddies online to this day, even though they live in Canada.
Upon going up to Mark, I was determined not to be so childish again! So, it left me with a photo of me smiling like an idiot, since we were talking during this, instead of during the autograph. But oh well, it's a story!
I walked up and shook his hand – his lightsaber hand, might I add.
"Hey, I run the
Star Wars On Set
page, we've tweeted a few times!" I announced.
He raised his eyebrows and held onto my hand and we smiled for the photo as he asked "oh, is it online?"
"Yes, on Twitter!" I answered excitedly.
Mark held onto my hand a moment longer and looked up at me and just observed. Not long, but long enough to see him processing the information.
"Thanks, nice to meet you!" I added, and he said thank you again, then turned to the next person. I shared photos with Nick and his dad after this. Sadly, there wasn't anything else too exciting about that day – I drove home right after and it took much longer than expected due to traffic going out of Canada. I got home close to midnight.
About a week later, he followed back my Twitter accounts, and to this day I still wonder if it were by accident that he had stumbled upon them, or if he somehow remembered what I had told him. He has since proven his memory to be much better than I could ever hope mine would be, so it's really a tossup and will forever be an unsolved mystery.
Though this wasn't the most eventful of stories, it definitely lead to better encounters with Mark, especially the most recent at NYCC. I'm glad I went through all the trouble to meet him this first time.
Back to "Fans"