Room 222
I've Got the Hammer, If You've Got the Thumb
Genre:
Comedy, Drama
Released:
September 14, 1973
Episode:
Season 5, Episode 1
Rated:
Unknown
Director:
Charles Rondeau
Mark's Role:
Matt Evans
Also starring:
Lloyd Haynes, Michael Constantine, Philip Carey
:: Back to 'Big Screen & Television'
---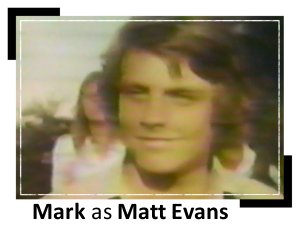 ---
Matt Evans
has grown up in the mountains, living a
simple and solitary
life with his father. By the law, the teenager must now attend school until he is 18.
This is a
challenge
for him on many levels, but he is quick to make friends and passionate about learning, with a special interest in
architecture
. When the class learns of a
derelict park
in the vicinity and discusses ways to fix it up, Matt suggests they do it themselves rather than wait for somebody else to do it.
While his
hands-on, can-do attitude
has many advantages and impresses both his teachers and his classmates, Matt soon has some
hard lessons
to learn about
responsibility
,
friendship
and being part of a
community
.